AICCC 2021
---
AICCC 2021 was successfully held online during December 17-19, 2021!
Due to the COVID-19 pandemic, the safety of the participants remains the top priority. After careful consideration, AICCC 2021 was specially arranged as online conference, so that delegates can participate in the video conference under a safe, productive and well-attended atmosphere. We believe that even at the online conference, everyone has gained something and had a good time. Authors from USA, UK, Malaysia, Norway, France, Japan, China, Russia, Korea, India, Malaysia, Bangladesh, Bulgaria, Philippines, Indonesia, Turkey, Malta did presentation at our conference.
Prof. Ma Maode from Qatar University, Qatar did the opening address. During the conference, Prof. Kenji Suzuki from Tokyo Institute of Technology, Japan, Prof. Ma Maode from Qatar University, Qatar, Prof. Yan Li from University of Southern Queensland, Australia and Prof. Seiichi Ozawa from Kobe University, Japan have given wonderful keynote speeches.
Dr. Laurent Chaudron from Theorik-Lab / French Air and Space Force Research Center, France, Prof. Chih-Chiang Wei from National Taiwan Ocean University, Prof. Seokwon Yeom from Daegu University, South Korea, Prof. Umesh Chandra Pati from National Institute of Technology, India, Dr. Ruixue Li from Shandong University of Finance and Economics, China, Seamus Lankford from Munster Technological University, Ireland, Prof. Yuki Nakamoto from University of Hyogo, Japan and Prof. Narendra D. Londhe from National Institute of Technology Raipur, India helped to chair different sessions.
Thanks for all of the professors and our session chairs. Besides, all of the authors and listeners are also highly appreciated since your participation made our conference more successful!
March 18, 2022 Good News! The AICCC 2021 proceeding is available ACM Digital Library.
The AICCC 2021 papers have been indexed in EI compendex and Scopus !
Group Photos: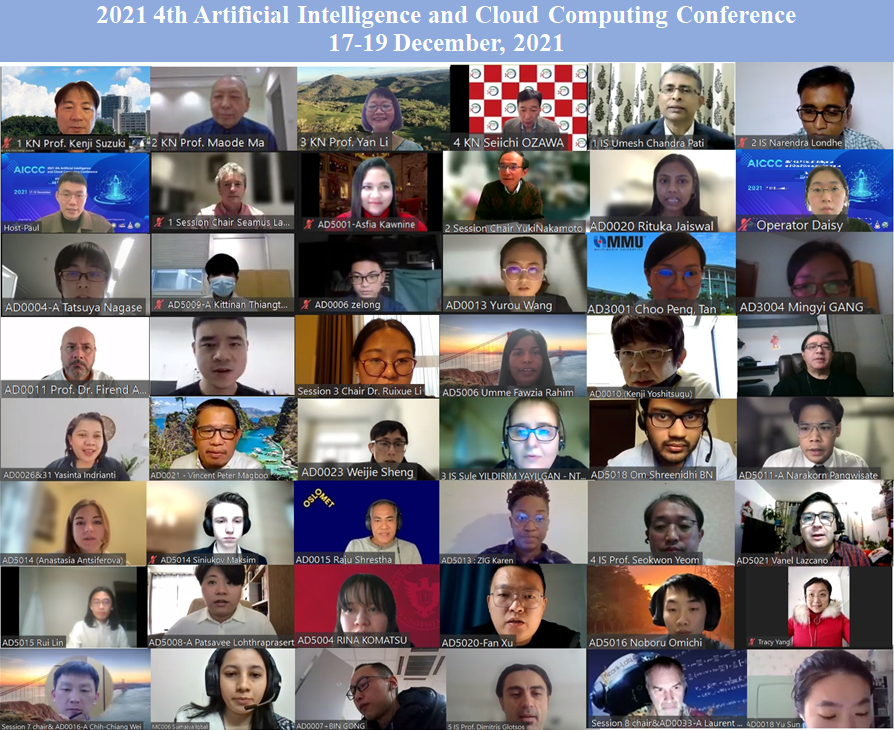 Keynote Speaches:
Prof. Kenji Suzuki from Tokyo Institute of Technology, Japan
Speech Title : Artificial Intelligence for Medical Image Processing and Diagnosis
Prof. Maode Ma from Qatar University, Qatar
Speech Title : A Lifetime Learning Framework of IDSs for Vehicular Networks
Prof. Yan Li from University of Southern Queensland, Australia
Speech Title : The Impact of Artificial Intelligence, its Future in Australia and AI Research Showcase
Prof. Seiichi Ozawa from Kobe University, Japan
Speech Title : Privacy-Preserving Machine Learning for Big Data Analysis and its potential applications
Best Presentations:
| | |
| --- | --- |
| Session 1 | Session 2 |
| Session 3 | Session 4 |
| Session 5 | Session 6 |
| Session 7 | Session 8 |